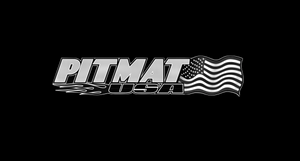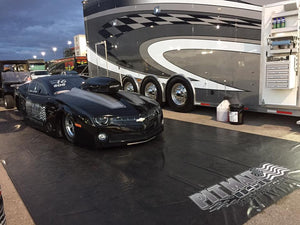 WHAT IS A PITMAT?
PITMATs are made from an exclusive 32 ounce material that can be used on a variety of surfaces including gravel, dirt, grass, concrete, asphalt and recycled asphalt. Its primary purpose is to provide a clean, durable surface to park and maintain your vehicle while at the track or in the shop.
PITMATS ARE:
HEAVY DUTY AND A DURABLE 32 OUNCE MATERIAL
NON-SLIP
FIRE RETARDANT
MOLD RESISTIVE
SEAMED AND GROMMETTED
ECO-FRIENDLY (KEEPING DANGEROUS CHEMICALS FROM SEEPING INTO THE GROUND)
EASY TO CLEAN
GREAT TO CLEARLY DEFINE YOUR PIT AREA
EASILY LOCATE AND PICKUP DROPPED TOOLS OR PARTS
SAFE FOR FLOOR JACKS & PRO JACKS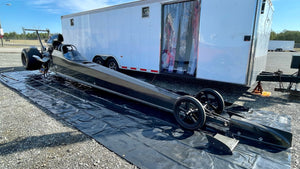 HOW MUCH DOES A PITMAT WEIGH?
10' x 10' = 22 lbs
10' x 20' = 43 lbs 
10' x 30' = 66 lbs 
12' x 20' = 53 lbs
12' x 30' = 80 lbs
12' x 40' = 106 lbs
15' x 30' = 100 lbs
15' x 40' = 133 lbs
*All weights are approximate.*
WILL THE MAT HOLD UP TO FLOOR JACKS AND / OR PRO JACKS?
Yes, as long as proper care is taken to remove large rocks and debris before setting up your PITMAT.
If using on an asphalt / concrete surface, we recommended you sweep the area first before setting up.
WHAT COLORS DO PITMATS COME IN?
SHIPPING:
We ship worldwide. 
For international rates please call 855-PITMATS (855-748-6287)
WHAT OUR BUYERS ARE SAYING
Great product. Stands up for many years. It's heavy but the trade off is durability. Great service and great people.

Gary U.
Great company, amazing customer service. Not sure how I ever did without one!

Matt P.
We love ours! Highly recommend getting a PITMAT for your pit area!

Evan S.
Subscribe to our newsletter
Promotions, new products and sales. Directly to your inbox.